BetaSoccer examines the most important Premier League developments by answering 10 key questions that arose from this weekend's slate of action.
Is the title race over?
Not for the first time this season, Liverpool picked up three points despite looking nervy and susceptible, this time squeaking past Brighton and Hove Albion at Anfield thanks to a pair of towering headers from Virgil van Dijk.
The Reds, unbeaten in 31 Premier League matches, now sit a whopping 11 points ahead of Manchester City after the reigning champions saw their title hopes take another hit in a 2-2 draw against Newcastle earlier on Saturday.
Unsurprisingly, City dominated proceedings against the Magpies, only to be undone by a pair of excellent, unlikely goals; it's not every week that Jetro Willems scores with his right foot or Jonjo Shelvey picks out the corner with inch-perfect precision from outside the area.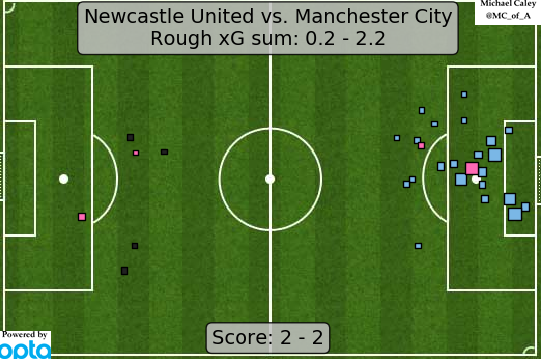 (Source: @Caley_graphics)
That's exactly the issue for Manchester City now, though. Leicester City, who are sitting in second place, eight points adrift after a dramatic late win over Everton on Sunday, are in the same boat, for that matter.
Not only does the chasing pack need to be very good for the rest of the campaign to have a chance at reeling the Reds in, but those teams also can't afford to get unlucky. The margin for error, self-inflicted or otherwise, has evaporated. If Liverpool come out of their hectic holiday period still nursing a sizable advantage atop the table, it's difficult to see any scenario in which they don't capture their first title of the Premier League era.
Should Big Virgil win the Ballon d'Or?
In inspiring the aforementioned win over Brighton, domineering Dutchman Van Dijk offered up one last bit of evidence to suggest that he should leave Paris with the Ballon d'Or in tow after Monday's award ceremony.
He'll have to beat out Lionel Messi for the honor – no small feat, of course – with Cristiano Ronaldo's recent struggles likely relegating him from what has increasingly looked like a two-horse race of late.
The football world has largely become numb to Messi's sustained brilliance, which may hinder him in the hunt for his record-setting sixth crown. He should probably win it every year, in truth, but the desire for variety is understandable.
With PFA and UEFA honors already in his back pocket in 2019, along with a Champions League title, Van Dijk has every chance of becoming the first defender to claim the esteemed prize since Fabio Cannavaro in 2006.
Can Spurs finish in top 4?
It's not been perfect so far under Jose Mourinho – Tottenham's penchant for conceding late goals in their last two league matches will annoy the Portuguese manager to no end – but there are signs of life again at Spurs.
Dele Alli appears to be the biggest benefactor of the touchline swap, as the reinvigorated attacking midfielder scored twice in Saturday's 3-2 win over Bournemouth, completing eight take-ons for good measure.
"I couldn't ask for more (from Alli)," Mourinho gushed after the match. "He's playing amazing, scoring goals, assisting, working, fantastic."
In a congested table where fifth and 17th are separated by just six points, a Mourinho-inspired uptick will thrust Spurs right back into the hunt for a Champions League place.
How crucial is Abraham to Chelsea?
If Saturday was any indication, Tammy Abraham may be Chelsea's most important player.
The English striker, who's tied for second in Premier League scoring with 10 goals on the season, missed the Blues' 1-0 defeat to London rivals West Ham after suffering a hip injury in the Champions League draw with Valencia.
Seldom-used veteran Olivier Giroud got the nod in his stead, and looked every bit like a player who was making his first start since August; the Frenchman was anonymous, accounting for just two shots – one on target – despite his team firing 19 toward West Ham's net.
Abraham's cleverness and ability to find openings inside the penalty area – he leads the Premier League with 7.4 non-penalty Expected Goals – was sorely missed. There's optimism that the 22-year-old will be able to return swiftly, maybe as early as the midweek clash with Aston Villa. For Chelsea's sake, let's hope so.
A solution in goal for West Ham?
West Ham boss Manuel Pellegrini earned a stay of execution with the win at Stamford Bridge, as the Hammers tasted victory for the first time in eight Premier League games on Saturday.
Some of that can be directly attributed to not having a pylon between the sticks. After conceding nine goals in West Ham's last three matches – all losses – uninspiring backup 'keeper Roberto was mercifully relegated to the bench in favor of 33-year-old David Martin.
The journeyman shot-stopper, making his top-flight debut after being signed this summer from Millwall, cried tears of joy at the final whistle. Martin's clearly a stopgap solution until the club's reigning player of the year, Lukasz Fabianski, makes his return, but in addition to being a feel-good story, he also appears to be Pellegrini's best shot at staying employed right now.
Is Ward-Prowse's set-piece prowess unmatched?
James Ward-Prowse scored another splendid free-kick on Saturday, helping Southampton come from behind to claim a crucial 2-1 win over fellow relegation battlers Watford.
His goal, which ultimately proved to be the final nail in the coffin for Watford boss Quique Sanchez Flores, gave the underrated midfielder four direct free-kick goals since the start of the 2016-17 campaign. Only Philippe Coutinho, who hasn't been in the league since 2018, has more in that period.
The likes of Kevin De Bruyne, Willian, and Gylfi Sigurdsson, among a couple others, may have something to say about it, but at the moment, Ward-Prowse is surely the player you want standing over a free-kick in a dangerous shooting position.
New manager, same Arsenal?
Sort of, but not quite.
Freddie Ljungberg's interim stint as Arsenal manager began with a wildly entertaining 2-2 draw against Norwich City on Sunday and provided some insight into the stylistic changes the Swede intends to make after assuming the reins from Unai Emery.
Among his many downfalls, Emery's insistence on implementing a defense-first mindset simply didn't jive with the squad at his disposal; the Gunners have genuinely talented attackers but are burdened with some truly woeful defenders. Asking that squad to soak up extended periods of pressure and then hit on the counterattack simply wasn't viable.
Ljungberg took the shackles off at Carrow Road. It was far from perfect – Norwich dominated the latter stages of the match after the introduction of Emiliano Buendia – but if nothing else, he's going to play to his team's strengths. It'll mean more defensive woes in the near future, but for neutrals, Arsenal will go back to being the most entertaining team to watch each week.
Where would Arsenal be without PEA?
In a world of hurt, is the simple answer.
Pierre-Emerick Aubameyang scored both goals on Sunday for Arsenal, bringing his team-leading total on the campaign to 10; the Gabonese star has accounted for 50% of the Gunners' tallies this season. His attacking mate, Alexandre Lacazette, is second with just four.
After bailing Emery out on several occasions, Aubameyang seems intent on doing the same for his new bench boss. In theory, he should thrive if Ljungberg is going to champion a more adventurous approach, but Arsenal need someone else to help relieve some of the attacking burden if they're going to turn things around.
So long, Marco Silva?
Marco Silva is on the brink. The Everton manager could only stare into the abyss as Kelechi Iheanacho's 94th-minute goal for Leicester, which needed a dramatic VAR check to be confirmed, condemned his side to yet another agonizing defeat. You have to feel for the guy at this point.
The Toffees have just two wins in their last 10 league matches and now sit a mere two points outside of the relegation zone. Things don't get any easier, either, as a midweek Merseyside derby is on tap.
That could very well be Silva's last match at the helm of Everton, assuming he even gets to that point.
Jack Grealish for England?
Take note, Gareth Southgate. Jack Grealish scored from here in Sunday's 2-2 draw against Manchester United. On David De Gea, no less:
(Source: DAZN Canada)
No English player has contributed to more goals in the Premier League this season than the Aston Villa captain, who's notched three goals and four assists on the year so far. Get him on the plane next summer, Gareth.