BetaSoccer examines the most important Premier League developments by answering the key questions that arose from this weekend's slate of action.
Is Solskjaer setting Pogba up for failure?
There wasn't even a hint of the drama that lied ahead when Paul Pogba was removed from Saturday's encounter against Brighton and Hove Albion.
The Manchester United midfielder was handed his second start of the season, and, for the second straight time, he was replaced with over 20 minutes remaining after another poor performance. The match was still in the balance against a Brighton side that was pressing hard for an equalizer when Ole Gunnar Solskjaer removed Pogba in the 65th minute.
Brighton eventually drew level with an injury-time goal, but their hearts were broken moments later when United converted a penalty that was awarded after the final whistle.
It was about as dramatic as it gets, and all Pogba could do was watch from the sideline. But maybe that's where he should have started the match?
After laboring through his first two games of the season, Pogba has been a shell of the player who helped United capture a top-four spot near the end of the last campaign before he was sidelined with the coronavirus.
With another forgettable day in the books, it might be time for Solskjaer to adjust his system in order to extract the maximum performance out of a player who, when at peak form, is one of the league's very best.
Can Chelsea survive without defensive reinforcements?
Not at this rate. Chelsea can certainly score their way out of trouble, as they did Saturday against West Bromwich Albion. But comebacks can't be the foundation of their season.
One man was never going to solve Chelsea's defensive problems, no matter how much they expected from Thiago Silva, the free agent signed from Paris Saint-Germain. The Brazilian's carelessness on the ball marred his Premier League debut, but he's the least of Chelsea's worries. Silva will eventually perform well – he showed off his responsible and aware play in the Champions League last month – but there are no guarantees about the rest of the team's backline.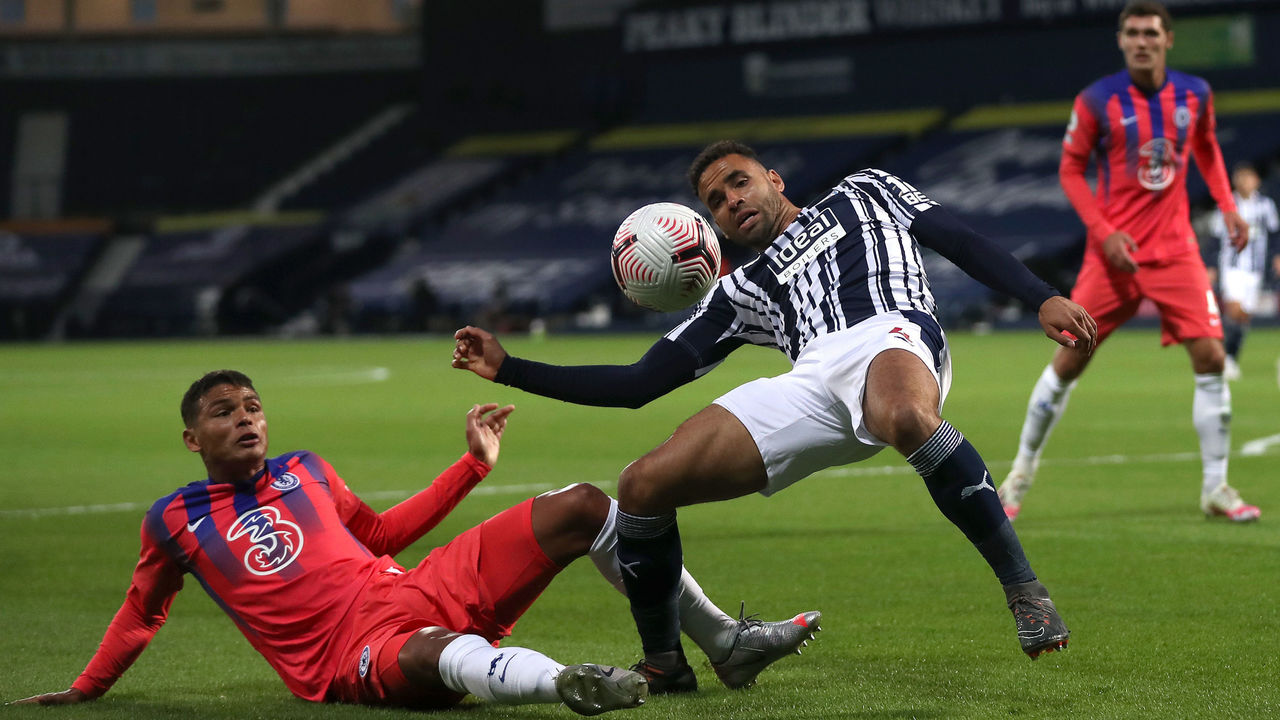 Reece James is delightful when he's rampaging forward and sending in crosses, but his positioning inside his own area needs work. Andreas Christensen has struggled with various partners beside him, and while Marcos Alonso remains a good option at the wing-back position, he lacks the discipline and pace to defend in a more withdrawn role.
Ben Chilwell will eventually relieve Alonso, but even then, the 24-year-old is better going forward than he is at blocking lanes and regaining possession. Meanwhile, Antonio Rudiger, one of the club's most robust defenders in recent years, is out of the picture entirely.
Manager Frank Lampard quickly needs to find a solution.
Is Hodgson right about the handball rule?
The new handball law incensed Crystal Palace manager Roy Hodgson when his team was on the receiving end of a dubious penalty that ultimately resulted in a 2-1 defeat against Everton on Saturday.
Joel Ward was adjudged to have handled the ball inside the area after a header from Lucas Digne hit his wrist. Any player deemed to have made their body "unnaturally bigger," regardless of intent or how blatant the incident seems, will be penalized this season in England's top flight.
The new, harsher handball rule – which the International Football Association Board (IFAB) put in place to help with the implementation of VAR – was used in other leagues across Europe last season, and the Premier League has adopted it this year.
As was the case in Serie A and the Bundesliga, the early growing pains have been widespread.
"I think the rule is nonsense," Hodgson said post-match. "I think it's a nonsense when we get one, I think it's a nonsense when we get one against us, and I think it's only serving the purpose … for polemics, discussions, and dramatic moments.
"I just find it very disappointing that the game I love and believe in is being reduced to this level where every week, games are being decided on so-called penalty decisions for handball which aren't handball."
Jose Mourinho and Tottenham Hotspur felt the sting of the new law on Sunday when Eric Dier, who wasn't even facing the play, unwittingly blocked a header with his arm during stoppage time against Newcastle.
The Magpies subsequently converted the late spot-kick to earn a 1-1 draw, leading to Mourinho angrily storming down the tunnel. However, the Portuguese manager was surprisingly restrained with his post-match comments.
The outrage from the football world over the rule, including from former players, was swift.
Even Newcastle boss Steve Bruce, who obviously benefitted from the call against Tottenham, said he would be "absolutely outraged if (that penalty decision) had gone against us."
It's possible players adapt as the campaign continues, as was the case in some of the other leagues last season. But maybe there should be some serious discussions about figuring out a solution that doesn't reward teams with a penalty for what is, in many cases, an inadvertent infraction defenders can do absolutely nothing about.
Time for Alli to leave Tottenham?
The handball controversy dominated the post-match discourse around Tottenham, and for good reason. But there was another big talking point brewing ahead of the contest: the future of Dele Alli.
Mourinho once again omitted the 24-year-old from the squad, adding fuel to the rumors about Alli's impending departure. Paris Saint-Germain are reportedly interested in signing the versatile midfielder before the transfer window slams shut on Oct. 5.
Perhaps that's for the best?
What seemed initially like it could be a fruitful partnership when Mourinho arrived at the club has instead devolved quickly. In hindsight, it's not the most surprising development, given Mourinho's history of player management.
Tottenham still have to work Gareth Bale into the mix, too, which figures to only worsen Alli's chances of garnering consistent playing time if he remains in north London.
Will Ruben Dias solve City's problems?
For the sake of Pep Guardiola, he'd better.
The 23-year-old defender is on the verge of joining Manchester City from Benfica, with a fee of €55 million reportedly agreed upon between the sides. Based on Sunday's 5-2 hammering at the hands of Leicester City, Guardiola needs the Portuguese center-back to get up to speed immediately for his club to hold any hope of returning to the league's summit.
City are dealing with a spate of significant injuries, but that shouldn't distract from the obvious defensive issues plaguing the team. Fernandinho, who was replaced early in the second half against Leicester after an ineffective showing, is on the decline. Once a one-man wrecking ball in defensive midfield, the Brazilian simply can't cover ground as he once did, leading to a big ripple effect on the team.
Benjamin Mendy's defensive shortcomings were on display once again, and Nathan Ake needs time to adjust after his big summer switch. Unfortunately for Guardiola, reigning champions Liverpool likely aren't going to afford him that time.
Can anybody stop Vardy?
Whenever you're mentioned alongside Lionel Messi, you're doing something right.
Only two players have scored a hat-trick against a Guardiola-led side during the decorated tactician's managerial career: Messi and Jamie Vardy. And the Englishman has now done it twice following his treble on Sunday.
Beyond just the sheer goals, Vardy showcased his unrivaled craftiness inside the penalty area, winning a pair of spot-kicks against City while using his quickness and burst to gain an advantageous position before suckering defenders into making contact. Seriously, nobody does it better.
No player has won more penalties (19) in Premier League history than Vardy.
Last season's Golden Boot winner, Vardy continues to feast during matches against the Premier League's top sides, and he should be right in the mix for that individual accolade again.