theScore examines the most important developments and biggest talking points from Saturday's slate of action in England's top flight.
Time to worry about slumping Man City?
Pep Guardiola predicted a tough match on Saturday, saying that Manchester City "always struggle at Wolves." But even with City's past issues taken into account, hardly anyone could've foreseen his world-class squad faltering under pressure against Wolverhampton Wanderers and ending the weekend with a second consecutive defeat in all competitions.
The latest blemish in what was a flawless season just a week ago was a deflating loss against a poor Wolves team, delivering an early blow to City's hopes of running away with the league on their way to capturing a historic fourth straight Premier League title.
Guardiola called the shots from the stands while serving a touchline ban, so there was little the Spanish tactician could do to prepare his men for Molineux Stadium's hostile and energized atmosphere. The cauldron of noise was deafening after Pedro Neto's lung-bursting run on the counterattack resulted in a Ruben Dias own goal.
The visitors looked rattled for much of the first half but regained their composure after Julian Alvarez's superb free-kick. City went on to exert their dominance, coming close to scoring the go-ahead goal on numerous occasions. But it was another Wolves goal on the counterattack that delivered City's first Premier League loss since February and had some questioning Nathan Ake's selection over Josko Gvardiol, the second-most expensive defender in the world.
Signs that City were susceptible to conceding goals without producing much of a response in attack started well before Saturday, however. They suffered a narrow League Cup defeat to Newcastle despite fielding a strong starting team. Before that, they looked uncharacteristically average for much of their first Champions League game of the season, despite eventually beating Crvena Zvezda after falling behind.
EPL rivals figuring out Brighton
Who saw that coming?
The bout between Aston Villa and Brighton & Hove Albion was billed as the battle to be the best of the rest. But in the end, it wasn't the tight affair that many anticipated, with Villa winning 6-1 to leapfrog Brighton in the table.
Both clubs enjoyed periods of success in the second half of last term after managerial switches revived their seasons. They've benefited from bright starts this season – especially the red-hot Seagulls, who have earned plenty of praise after their strong start in the Premier League.
But it was Aston Villa who came out on top Saturday, beating Brighton convincingly to boost their credentials as a contender to break into the top five. Unai Emery's men ran riot in the first half, jumping out to a 3-0 lead 26 minutes into the game after exposing Brighton's defensive frailties. Ansu Fati gave the visitors a lifeline just after halftime, but Ollie Watkins put the cherry on top of an outstanding personal and team display with his third before a pair of late insurance goals piled the misery on Brighton.
While Brighton have deservedly been the talk of the Premier League this season, there have been noticeable cracks in the armor. Specifically, Brighton's defense has been less than convincing. Saturday's lopsided result was the seventh time since April the Seagulls have conceded three or more goals. Seagulls boss Roberto De Zerbi ultimately failed to adjust to Emery's approach and Villa overwhelmed Brighton's midfield with high pressure. That often resulted in cheap turnovers and counterattacking opportunities, similar to the manner in which West Ham beat Brighton earlier this season.
For Villa, it was a near-flawless day at the office as they recorded their 10th home win in a row in the Premier League. Meanwhile, Brighton need to rebound quickly ahead of difficult matches at Marseille in the Europa League and next weekend against Liverpool.
Man United stuck in neutral
So much for taking "another step forward."
In his pre-match notes, Erik ten Hag wrote about the momentum Manchester United were building after winning back-to-back matches. But beating Crystal Palace in the League Cup third round Tuesday didn't produce the desired knock-on effect. Palace avenged that defeat Saturday with a 1-0 win at Old Trafford that resulted in heavy booing around the old stadium and more questions about Ten Hag's ability to turn the situation around.
It's true Palace had few chances, and the winning goal was a beauty from an unlikely source, but United's 77% possession was as uninspiring as it was frustrating to watch. With just four shots on target – one of which was blocked – United found it difficult to break Palace's rock-solid defense.
A team with more than £200 million of attacking talent shouldn't have such difficulty creating chances at home. But it has, and it has for a while now. Ten Hag can take whatever positives he likes from this game – he seemed upbeat about conceding just three chances all game – but the bottom line is that United are off to their worst start to a domestic campaign in 34 years. Ten Hag is more than a year into a job with a squad of his making at his disposal, and this is the result?
That said, it's unlikely Ten Hag will get sacked. He seems to have the support of the Glazer family and, with the club up for sale, a potential firing could make buyers think twice before parting with up to £10 billion.
Ten Hag can also argue the string of injuries and off-field incidents have unsettled his players. But United are already six points off the Champions League places after just seven matches. If taking two steps forward means taking two steps back, they'll be floating in no man's land for some time.
Faith in VARs at all-time low
Referees are on the field and in the VAR booth, with eyes on both ends of the pitch, technology at their fingertips, protractors and rulers in hand, ready to draw lines whenever they suspect a player has crept into an offside position. There have never been so many checks and balances in the game's long history. There have never been fewer reasons to get offside calls wrong.
All of it makes mistakes like Saturday's horrific oversight unforgivable – and the Premier League's decision to reject semi-automated offside technology all the more laughable.
No one needed any virtual confirmation that Luis Diaz was onside before scoring what should've been the go-ahead goal for Liverpool on Saturday against Tottenham Hotspur. It was clear to the naked eye. But the VAR on duty, Darren England, didn't see any reason to reverse the initial offside call. He didn't even appear to verify Diaz's position with the usual line drawing that accompanies freeze frames.
The Professional Game Match Officials Limited, which oversees refereeing in professional English football, said it will "conduct a full review into the circumstances which led to the error." That's nice and all, but it's too late. The goal could've given Liverpool something to defend as they went down to 10 men and then nine, and a chance to maintain their unbeaten Premier League record. Who knows how pivotal that lost point could be?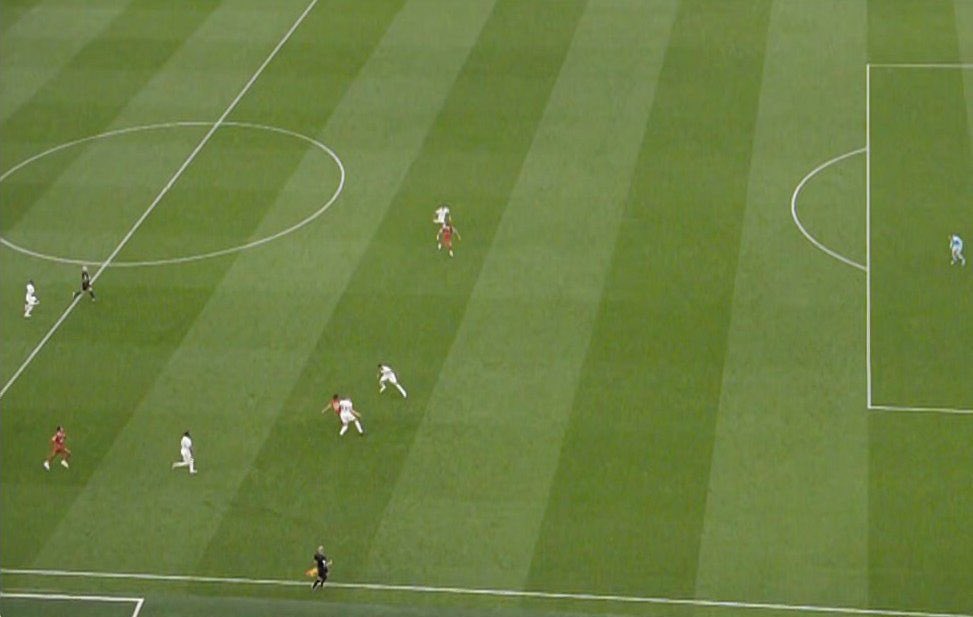 (Courtesy: Ben Jacobs)
VARs cost teams far too many points last season and, given the frequency of errors, there's quite clearly something amiss with the process, if not the competency of officials.
Before the introduction of video assistant referees, fans could understand and even forgive referees and linesmen who incorrectly judged a player to be offside. The speed of the game offered them a bit more leeway. Now, there's no excuse. Every missed call eats away at the public's trust in refereeing, which can delegitimize the whole thing. This is serious stuff.
It's time to eliminate the VAR system – which routinely fails to correct clear and obvious errors – and stick with semi-automated offside and goal-line technology. The system as it's set up now doesn't eliminate human error. It just gives another human a chance to make an error.
Quick free-kicks
Watkins' stock soars
Aside from Harry Kane, there isn't a better English striker than Watkins at the moment. The 27-year-old continues to endear himself to fans in Birmingham – and throughout England. On Saturday, he became the first Aston Villa player to record two hat-tricks in the same season since 1976-77 during the team's most complete performance in recent memory. Along with jumping into a tie for fourth in Premier League scoring with four goals, Watkins surely boosted his case for more national team playing time considering that England boss Gareth Southgate was in attendance at Villa Park to witness the clinical performance.
Luton's historic win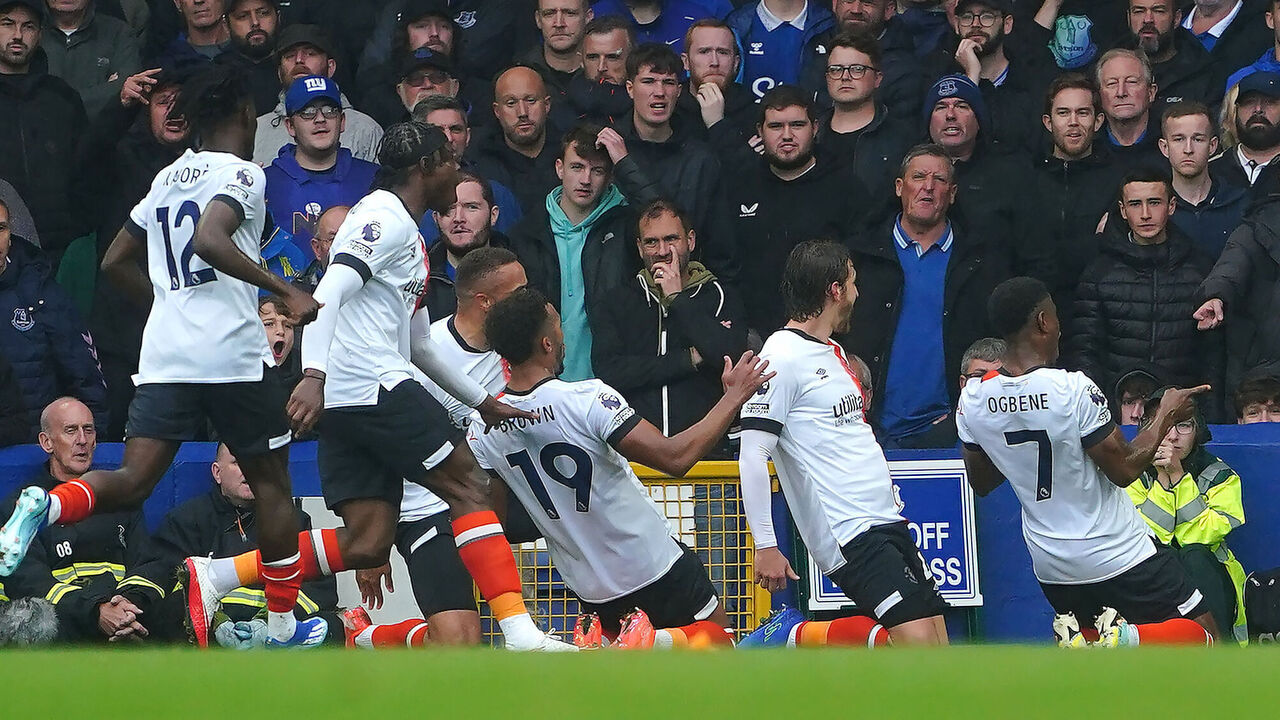 Saturday's victory at Everton was over 31 years in the making for Luton Town and their fans. After taking the lead for the first time in any match since being promoted, Luton added to their advantage against the sorry Toffees on their way to registering their first Premier League win in club history. The last time they won in England's top flight was April 1992 – the season before the first division was rebranded to the Premier League. The win should help quell fears over a historically bad season after Luton opened the campaign with one draw and four defeats.
Arsenal rally behind Havertz
In a gesture that Arsenal manager Mikel Arteta described as "moving," Bukayo Saka and Martin Odegaard waived at the chance to take a penalty in order to give struggling teammate Kai Havertz an opportunity to end his scoring slump. The 24-year-old forward promptly converted the penalty to make it 3-0 and record his first goal since joining Arsenal last summer. The goal proved inconsequential in the 4-0 win, but it was a touching moment in which Arsenal players – and even supporters in attendance – united to boost Havertz's morale. Declan Rice said after the game: "We want him to succeed so much."
Stat of the day
A day to forget in Manchester.
Tweet of the day
Manchester City manager Pep Guardiola may now know Wolverhampton forward Hwang Hee-chan as more than just "the Korean guy." The South Korean forward scored the winning goal against the defending champions on Saturday.